I'm keen to make the most of the Christian Game Developers Conference as an opportunity to raise awareness for Ebenezer, the Christian video game I'm developing. What better way that to design my own promotional T-shirt to wear during the conference?
I shopped around a few different T-shirt design sites, but in the end settled on Spread Shirt, mostly because they were one of the few I found that allowed you to have a logo on your shirt sleeve as well as on the front and back. Their web-based design software seems really nice and easy to use, though obviously I can't yet comment on the print quality since I haven't actually placed my order yet.
Naturally, the hardest part of the process is creating the design itself. I've hit upon some issues of cultural sensitivity along the way, since all of the obvious puns a Brit like me could make around the "donkey" theme of the game's story come out sounding rather ruder to an American audience than they do over here, I fear.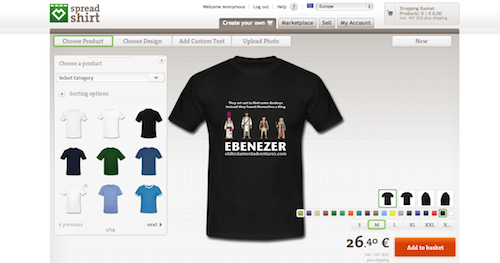 Based upon what you know of the game so far, what would you put on a T-shirt?