It's not only promotional T-shirts I've been ordering for this year's Christian Game Developers Conference – naturally, I've also ordered a bunch of that all-important networking tool, the humble business card.
I had a specific vision for my cards that was possibly unnecessarily showy: I was arrogant enough to want them to be double sided – gasp! shock! awe! Seriously – am I really being that demanding? It turns out to be really expensive – at least in comparison to single-sided business cards. I tried Vistaprint and some other place that my boss recommended, but they all wanted to charge me an absolute fortune for it, plus ludicrous amounts for very slow postage (and having left it a bit late in the day, they wouldn't have arrived in time anyway).
I ended up going with my old friends Moo. Admittedly their cards are relatively pricey, but they're solid quality and come double-sided by default. Not that I used this feature, but the nice thing about Moo is that you can submit multiple card designs, and for instance if you submit two they'll just print half of one and half of the other (or submit three designs and get a third of each, etc. etc.)
Because we're in the 21st century apparently I had to add a QR code to it so that people with these new-fangled technologies can quickly reach my website. I don't really know what it is, but it looks cool. The other funny thing is that I thought Moo was being all trendy and making my text appear in capital letters, but when I got home I found that the caps lock key was on on my laptop. Classic.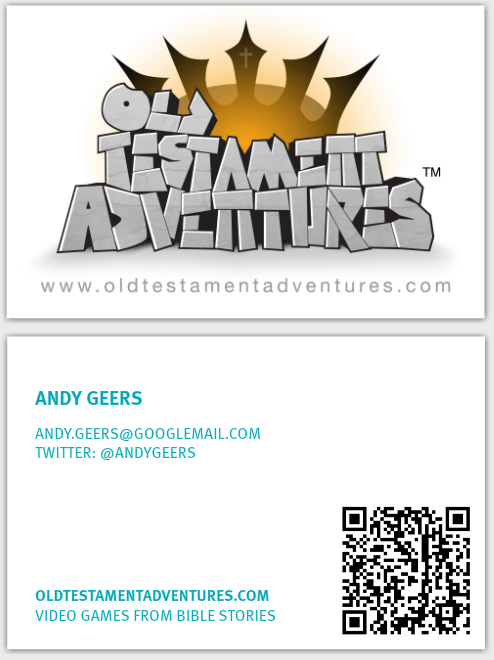 A quick suggestion: if you're enjoying following along this series attempting to blog every day in the run up to the Christian Game Developers Conference, do yourself a favour and subscribe to the RSS feed for this blog so that you can be automatically kept updated.