Today I want to present to you an opportunity for fame and glory whilst having fun all at the same time.
As I try and get Ebenezer into shape ready for next month's Christian Game Developers Conference, one thing that probably won't be included is the final character designs, because as of yet I've struggled to find the right volunteer. I've got some awesome character concepts designed by Paul Evans and his Red Green & Blue design consultancy, which totally rock, but I need a 3D character modeller, preferably someone comfortable with Blender, to take those concepts and turn them into 3D models that can then be animated.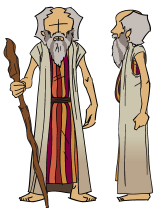 The game itself is going to be 2D, so the characters can be modelled at a fairly high level of complexity and detail, and we'll then render them out as 2D sprites using Blender's toon shaders. For the demo that I'm working on, there's probably about 15-20 characters.
I'm looking for someone with proper skillz who can produce something awesome – if you can't help yourself, can you pass this post on to anybody you know?