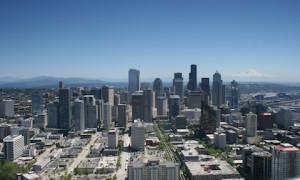 Being the 6th July today, it's my birthday! I'm being looked after by the lovely Jon Collins and his family, and today we went large in Seattle. We began at the Science Fiction museum, where they currently have an Avatar exhibition. It was interesting getting to see and play with some of the technology they used in the filming of it, such as real-time motion capture and virtual cameras and so on. It's possibly a bit sad to say that the most interesting part of the exhibition was the Microsoft Surface they're using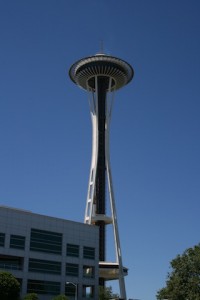 After that we made our way up the Space Needle, where you get the most incredible views out to Mount Rainier and so on. Fortunately we had incredible weather for it today, so you really could see for miles.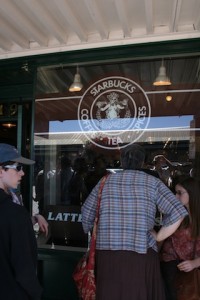 Burritos for lunch, then naturally we paid an obligatory visit to the first ever branch of Starbucks. We also stopped by the Pike Place fish market, as made famous by Sleepless in Seattle. It's quite a spectacle, watching the guys throwing fish about as the customers order it.
Tomorrow it's time for the Christian Game Developers Conference to begin – really looking forward to it now!