In preparation for this year's Christian Game Developers Conference, I ordered a T-shirt and some business cards to advertise my Christian video game, Ebenezer. Well, yesterday they both arrived in the post – exciting times!
I have to say that I'm a little disappointed with the print quality of the T-shirt from SpreadShirt. The factor that made me choose them over their competitors was that they allowed a design on the sleeve – although after I mentioned that on my blog, I discovered that you can only actually have text on the sleeve, and only in the limited selection of fonts that they provide. The reason for this is that they use a different technique for applying the text, and so the sleeve itself came out really very high quality. The rest is a bit wishy washy, although it's certainly good enough to achieve its purpose.
As for the business cards, Moo really excelled themselves – these are top notch in quality. They've got a really good feel to them, and the print quality is fantastic. Awesome.
You can click on the thumbnail below to see a full-size image: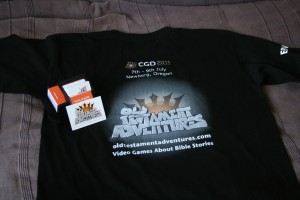 This post is part of a series attempting to blog every day in the run up to the Christian Game Developers Conference