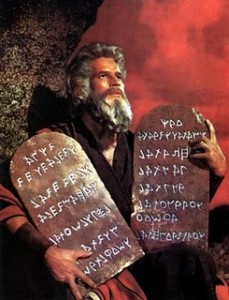 Love it or hate it, you can't help but be fascinated by the Old Testament. Violence, deceit, incredible bravery, victory against impossible odds, romance, debauchery, forgiveness, fiery judgement, week long parties enshrined in law, besides no end of incidents that are just plain weird: the Old Testament has it all. Certainly if this list of the 9 Most Badass Bible Verses is anything to go by!
It's hard to deny the profound influence the Bible has had on Western culture: from countless works of art like the ceiling of the Sistine chapel, to cheesy musicals like Joseph and the Amazing Technicolor Dreamcoat, not to mention myriad individuals spurred into action by a faith in the God of the Bible, like the politician William Wilberforce who was so critical in the campaign to end the slave trade.
And yet, if we're honest, when was the last time most of read the Bible as adults? A survey into Biblical literacy in the UK suggests that for many of us, the answer will be "not very recently". Well maybe now is the time to give it a go?
Numerous conversations I've had suggest that there are loads of people out there fascinated by the Old Testament. That's why I've made it my mission to make video games based on Old Testament stories that help bring them alive and explain some of those bizarre little moments that at first glance seem so alien to us.
Why not use the comments section below to share some of your favourite Old Testament moments, or just something you find plain confusing?